Attic insulation services in Salem, Oregon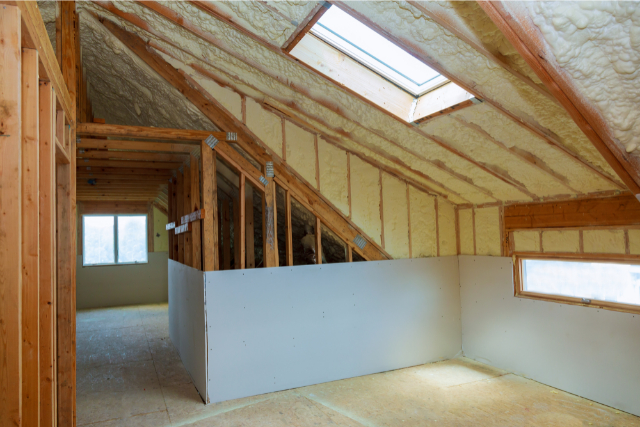 Attic insulation that is installed correctly stops air leaks, makes your house comfortable, and saves you money on your utility bills.
For a lot of homeowners, the attic is out of sight, out of mind. Yet, it can have an immense effect on your residential or commercial space. An attic that is not sufficiently insulated can make your rooms feel uncomfortable and waste precious energy.
Our Salem, Oregon insulation professionals deliver quality attic insulation services that help your home function properly. We provide a range of insulation types to fulfill your needs and budget while giving you a long lasting solution. 
Our company has been around for more than two decades in the Salem region, and we are fully licensed and insured. Our contractors are experienced, skilled, and dedicated to providing dynamic workmanship in your home or business.
Contact us today for a free estimate and affordable services near you in Oregon.
Types of insulation we offer
We offer the following insulation materials to suit your needs:
Fiberglass: fiberglass batts are a traditional insulation that is economical but can break down from pests and moisture.
Blown in: Loosefill blown-in insulation offers a long-lasting solution, yet it might not be the best choice if you use your attic as a storage space.
Blown cellulose: Dense packed cellulose is the most fireproof of the options, though it is typically more expensive. 
Our pros are ready to assess your home and assist you in determining the best type of insulation for your needs.
Count on our insulation contractors for affordable solutions that save money
Property owners often fail to understand that the attic can be a cause of expensive utility costs, an uncomfortable environment, and uneven temperatures. Without the right insulation and air sealing, the air that you pay for to cool or heat your home can easily escape and be replaced by outside air that is not conditioned.
Our experts provide you with a total attic insulation system that prevents air leakage problems and saves you money. By stopping the loss of cold or heated air through your attic walls and roof, your house or building will remain comfortable with consistent temperatures in all rooms.
We deliver many insulation solutions you need to ensure that your heating and cooling systems operate efficiently throughout the year, including basement, crawl space, and garage insulation. If you have an interest in enhancing your attic insulation, call us today for a free evaluation and quote.

Call us today at 971-301-6345